Is input current of VFD smaller than output current?
Input current of the VFD is related to the power required by the motor, the supply voltage, the efficiency of variable frequency drive and the power factor. Among, the
power factor
of VFD changes along with the impedance of power supply, low impedance leads to low power factor and high impedance leads to high power factor. As the load of VFD is a motor, the input and output power factors are different, the power factor at output end after using the VFD is higher than that of the input end.
Current of the motor depends on the required shaft power, and power factor of motor is usually lower than that of VFD. Due to this feature, the input current of VFD will be smaller than that of the motor driven by it. For example, a 15 kW 380V 4-pole motor, which is driven by a 15 kW (20 hp) three-phase VFD, related parameters are calculated as follows: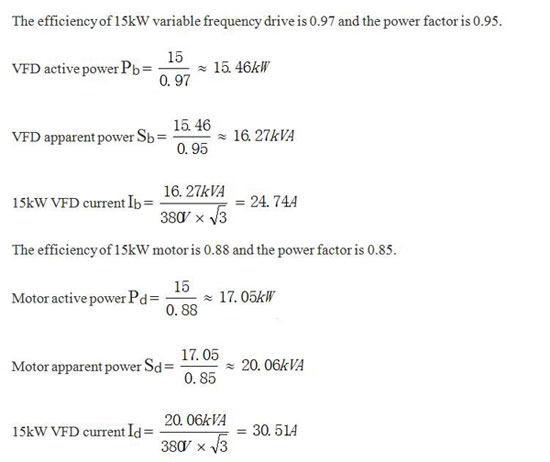 Obviously, it is objective that the input current of VFD is smaller than the output current, and someone think the following factors would lead to such a result.
Output current of the
variable frequency drive
is provided by the inverter. The waveform of current through pulse-width modulation is approximately sinusoidal, and the load requirements can be fulfilled only by increasing output, which is generally larger than 10% of input.
When the VFD is running, the input and output currents contain higher harmonics, it's difficult to measure the phase angle and errors occur in traditional measurement methods. Errors actually exist in measuring current and power consumption with harmonic components by conventional instruments. However, regardless of the measurement results, the input power factor of VFD is generally higher, which is above 0.95, input power factor of motor is generally about 0.85. According to the conservation of energy, only when the output current is larger than the input current can it satisfy the balance of equation.

Variable Frequency Drives

info@variablefrequencydrive.net