1. Starting test: increase the working frequency gradually from 0Hz and observe whether the motor can start, and its starting frequency. If the motor is difficult to start, try to increase the starting torque, such as increasing the U/F ratio. If it's still difficult to start, try to increase the capacity of variable frequency drive or adopt the vector control mode.

The biggest difference between single phase VFD and three phase VFD is that power supply of single phase VFD is consisted of a live wire and a neutral wire with a voltage of 220V. There's only one live wire, so it's called single phase. Power supply of the three phase VFD has three live wires, so it's called three phase VFD, as well as three phase power input VFD.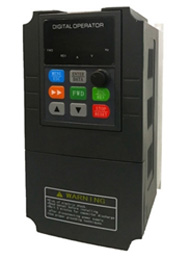 Variable frequency drive (VFD) is an adjustable speed drive used for motor drive system, control the speed and torque of the AC motor by changing the electromechanical input frequency and voltage. Also termed variable speed drive, AC drive or frequency inverter. The VFD is a device that converts an industrial frequency power supply (50 Hz or 60 Hz) into an AC power source with various frequencies to realize varying speed operation of the motor.
VFD control circuit completes the control of the main circuit, the rectifier circuit converts the alternating current into direct current, and the direct current intermediate circuit smoothes the output of the rectifier circuit, and the inverter circuit reverses the direct current into alternating current. The VFD achieves the purpose of speed regulation by changing the power supply frequency of the stator winding of the motor.
According to the fluid mechanics, the flow rate Q is proportional to the rotation speed z, the pressure head H is proportional to the square of the rotation speed n, the shaft power P is proportional to the cube of rotation speed n. When the pump efficiency is constant, if the flow to be regulated decreases, the rotation speed n decreases proportionally, the shaft output power P decreases in cubic relation. Namely, the power consumption of pump motor is cubic to the rotation speed. For example, the power of a pump motor is 55 kW, when its speed drops to 4/5 of the original speed, its power consumption is 28.16 kW, corresponding power saving is 48.8%. When its speed drops to 1/2 of the original speed, its power consumption is 6. 875kW, corresponding power saving is 87. 5%.


Variable Frequency Drives

info@variablefrequencydrive.net