Single Phase 110v/120v Variable Frequency Drive
At many sites, people often encounter problems that cannot use three phase power supply, but only single phase 110v/120v or 220v/230v supply, such as farms, homes, and stores. For three phase motor, using a single phase to three phase VFD as a phase converter to drive the motor is a good solution. Similarly, single phase motors and split phase motors can also be powered and speed controlled by
variable frequency drives
. Single Phase 110v/120v input, 1-phase / 3-phase 220v-240v output VFD from ATO can be your choice.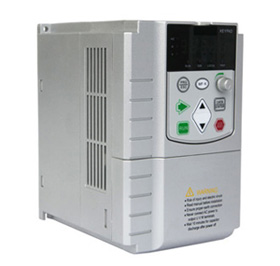 2hp single phase 110v/120v VFD parameters
Capacity: 2 hp (1.5 kW)
Rated current: 7 amps
Input voltage: 1 phase 120V AC ±15%
Output voltage: 1 phase / 3 phase, 0 to 220V AC ±15%
Input frequency: 50/60 Hz
Output frequency: 0 to 400 Hz
Dimension: 118*185*157 mm
Weight: 3 kg


Product features
Built-in RS485 communication interface, support MODBUS-RTU communication protocol.
It can store 2group motor parameters, and can drive asynchronous motors and synchronous motors.
The IGBT carrier frequency can auto adjustment according to heat sink temperature.
PID closed-loop algorithm, fast response and strong adaptability.
Full protections: overload, overcurrent, over voltage, under voltage, short circuit etc.
Overload capacity: 60s with 150% of rated current, 3s with 180% of rated current.

ATO single phase 110v/120v VFD can be widely applied to drive the motors, fans, pumps, power tools and so on. Power capacity from 1 hp (0.75 kW) to 7.5 hp (5.5 kW). Next, this video will show you the details of using a 2hp single phase VFD to run a
1-phase motor
on 120v power supply. Including wiring, parameter setting, speed control for single phase motor, etc.

Variable Frequency Drives

info@variablefrequencydrive.net